Mixed-use developments have been popping up all over Tampa Bay. Wondering what, exactly, mixed-use developments are and where they are found? Look no further; we've got all the info you need!
A mixed-use development is an urban planning or a zoning type that combines multiple uses. From residential and commercial to cultural, institutional, or entertainment, this singular space is functionally integrated while providing pedestrian connections.
These developments can be new construction, a renovation of an existing structure, or a combination of both. And they can also be a single building or several blocks as well as privately developed, owned by a governmental agency, or a mix of both.
What do mixed-use spaces often include and why?
Typically, these developments include retail/restaurant space on the first floor, several floors of office/commercial space with a parking garage option, and residential apartments/condos on higher levels. Grocery stores, gyms, etc., are often included in the development so residents can work, live, and play in the same area.
Most recently, the addition of green recreation space has been included as a major part of the design of mixed-use developments. You usually find these projects in more urban areas, and they have increased in popularity as a response to the increased population in Florida.
They are also prevalent due to the number of corporations brought here by the local Economic Development Committees (EDC). The latter are looking for affordable and desirable housing for workers close to job locations, allowing them to avoid traffic on major highways that connect the city to outlying suburbs.

How do these mixed-use spaces affect the overall community?
Mixed-use developments help to fuel the local economy by providing housing for the workforce. With so many in a smaller area, it drives traffic to stores within walking distance of the development – from boutiques to coffee shops, bars, and restaurants.
Grand Central at Kennedy in the Channel District is an excellent example of those mentioned above, with its gym, pharmacy, grocery store, ice cream shop, restaurants, and redesigned outdoor bar area that can be found packed on a weekend night or for Lightning game viewing. And they exist on the first floor of a two-building complex, with the mid-levels for parking and the top floors for condos, along with a pool, spa, and recreation spaces.
Tampa's Top Mixed-Use Projects
Spaces like the much anticipated Water Street development bring to life a previously dull and non-existent city life after work hours. Here are some of the area's hottest developments:

Water Street
Breaking ground in 2018, downtown's Water Street Tampa is on schedule to complete Phase I this year. The wellness-focused waterfront development includes Tampa's first five-star hotel plus residential, retail, and office space, along with ample community areas. Phase II is slated for completion in 2027.

Westshore Marina District
The 52-acre, $600 million master-planned Westshore Marina District is located at the southwest corner of Westshore and Gandy boulevards near the bridge. Plans include 1,750 luxury residential across three high-rise towers with a waterfront apartment complex, shops, offices, restaurants, nearly two miles of waterfront parks and walking trails, and access to 150 deep-water boat slips.

Midtown Tampa
With 1.8 million square feet, the $500 million Midtown Tampa project connects the Westshore and Downtown districts along I-275 with a centralized neighborhood. The development boasts over 30 spaces dedicated to retail, restaurants, and spots like gyms and a hair salon. Midtown Tampa also houses a 150,000-square-foot office high-rise and a 390-unit luxury apartment complex.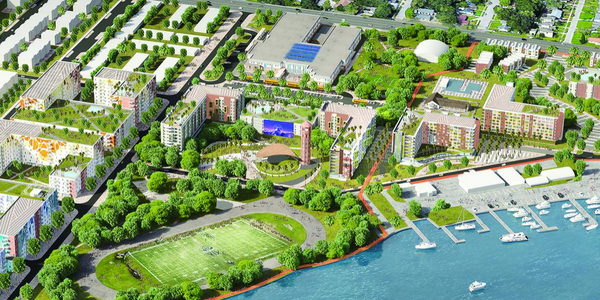 Rome Yard
This $300 million pedestrian-friendly joint venture with Tampa Housing Authority along the Hillsborough River will consist of 900+ affordable apartments and approximately 50 townhomes. Rome Yard will also have a cultural center, art pavilion, workforce training center, and public transportation. Plus, the Tampa Riverwalk will eventually go through the property. Construction will take 5-7 years to complete.
Tampa isn't the only place where these projects have become popular. All up and down Central Ave in St. Petersburg has seen these types of developments pop up under names like the Art District, the Edge District, and Grand Central District.